Customer Reviews
Just wanted to thank you for the flat cat - 'Little P' absolutely loves it and he's currently glued to the window, enjoying all the smells and noises! :-) Have recommended it to all my friends and family who have house cats and will be placing another order this weekend for another one! Thanks again
HP. Basingstoke, Hampshire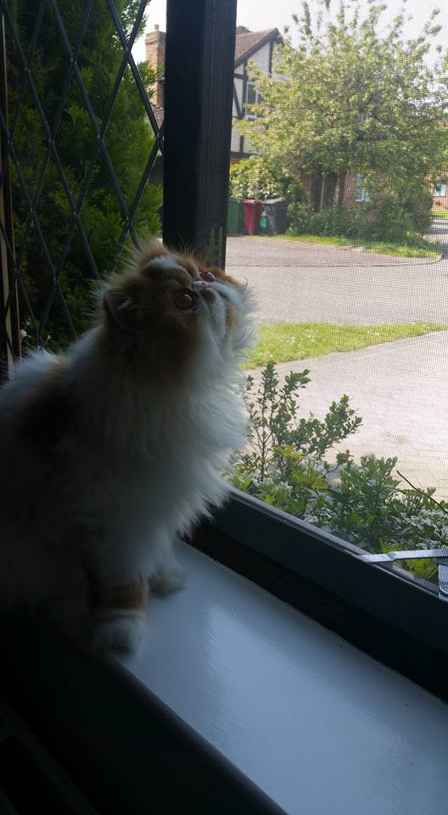 My screen arrived today. I installed in about ten minutes, very easy to fit, very clear instructions. I'm over the moon with it and my cat hasn't moved from it since I fitted it. It's so nice to have fresh air in the living room again, Stripes was hit by a car in January 2015 and has her leg pinned and plated together, and is only allowed in the garden when she is wearing her harness. Last summer was a tad on the stuffy side. I had spent ages Googling various screens and trying to find something that would allow us to have the door open without compromising Stripe's safety, and your product is just perfect.
HR. Loughborough, Leicestershire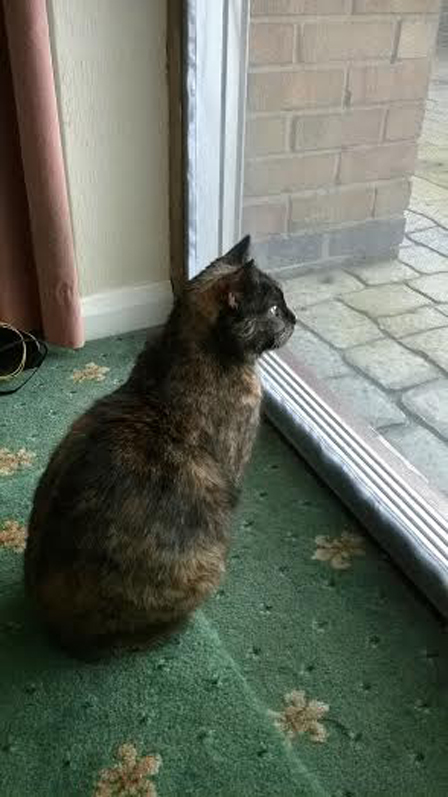 Greetings Dominic, We got there…Your parcel arrived this morning and the fitting was easy. So far, apart from a bit of cat'a'balling at the inside of the open window, all appears to be working as planned. So, fingers crossed (and everything else) doing business with you seems to have been money well spent.
AC. Bury, St Edmunds, Suffolk
Just wanted to say thank you. My screens have been up for a week and my cats have not managed to pull them down.
VP. Southampton, Hampshire
Hello Dominic! I wanted to write and thank you for creating and sending the screen so quickly. I received it early last week and put it up this weekend. It fits exactly and works great, and just in time for the warm weather. Your recommendation of adding the additional 3 cm to the bottom worked PERFECTLY, so thank you for that. Both of my cats are happy watching the hummingbirds on the feeder outside and enjoying the breeze. I haven't had any issues with the molding on the door frame, although I may apply the extra set of velcro strip just for security's sake. I've attached a photo so you can see how it worked out. Thank you again for all your help and time
AM. Springfield Oregon, USA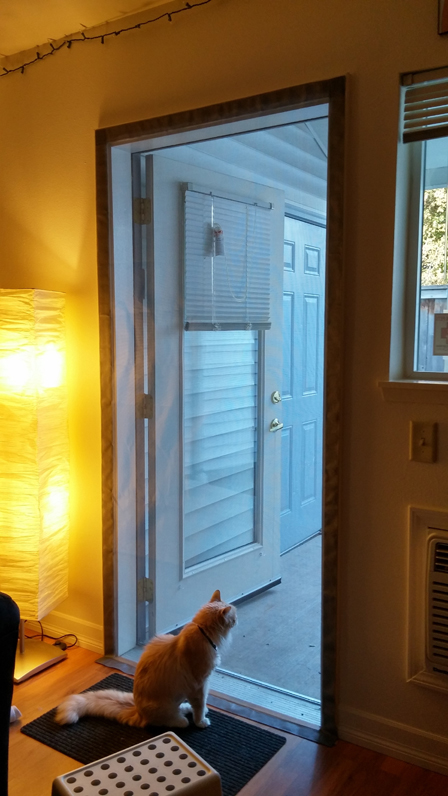 Hi Dominic - The Flat Cat arrived today and holding it up to the window it looks spot on! what service! in todays couldnt care less world.I will pass the word on to indoor cat owners that I know,All the very best and will be in touch when I decide the window in my sons bedroom needs your help.Thank you once again.
Edenbridge, Kent
Just wanted to say thank you for the three custom Flat Cats! We've just received them this morning and they're a perfect fit! Our baby Cecilia is so happy that she's now able to experience the breeze - we've had the windows shut even on the really hot days we've been having because we're in a top floor flat and I was so worried that she'd fall! I'm so glad that I ordered these in time for summer :-)
KP. London SE14
We finally installed them and the cats love it. Many thanks again.
SB. London SW19
Thank you so much for posting it so quickly. We received it yesterday and it is perfect! I have shared your website and facebook page on the breeders website and people have already commented on it. So hopefully you will get some more sales too!
BKH. Whatton, Nottinghamshire
Thanks for sorting the order out for us. I have just finished the installation. Perfect fit!
So far so good, cats seem to like it :-)
Thanks again for all your help and advice.
SP & EP, Crowthorne, Berkshire
Just to let you know all 3 Flat Cats fitted a treat and are successfully installed. Thanks for your help.
CH. Chelmsford, Essex
Thank you so much for my custom Flat Cat. We installed it this afternoon, and Gizmo has been to inspect it a couple of times. He seems very surprised by the extra noise from outside! I am absolutely delighted by the fact that I'll be able to sleep with the window open at long last, without fearing that our beloved cat will hurl himself through the open space and plummet to the ground. I am now heading over to Facebook and Twitter to sing your praises. :-)
JS. Sleaford, Lincolnshire
Dominic - to let you know we received the screen Saturday afternoon for our kitchen door I fitted it Sunday morning it dose the Job perfectly the wife is very pleased she can have the door open on warm day's while cooking thank you once again for your polite kind assistance.
LR. Kinsley, Pontefract
We've got the product last week, it fits perfectly. Thank you very much!
EM. Telford, Shropshire
Thank you for the screens! They are perfect!
IB. Potts Point, New South Wales, Australia
I have left it a good wee while to let you know how I got on with screens. Plus weather not been great. All I can say is a huge thank you 1st time in years I have my widows wide open and no escaping cats as I have indoor cats. They had a sniff at them when 1st put them up but have ignored them since which is amazing. Fresh air and safe cats my world is completed wanted to let you know and would recommend you to anyone and every one Next step is to get them for all my windows once I get some money together was not sure how to put feedback on your website
MS. Bathgate, West Lothian
Many thanks, delivery arrived this morning & they are up already!! Fantastic product & very easy to assemble. Thanks a lot
KC. Swadlincote, Derbyshire
Dear Dominic thank you so much for my flat cats my niece helped me fix them today and they are fantastic lovely to get the windows open in this hot weather thanks again . Regards
MR. Wimborne, Dorset
Thanks very much for the quick delivery. It's wonderful to able to get some fresh air in the flat during this heatwave!
GF. London SE5
Thrilled with our order. Thank you!
JK. Croydon, Surrey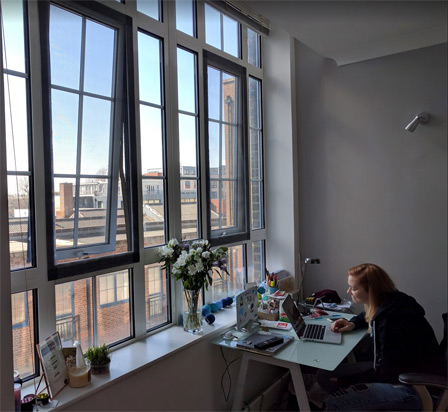 Thanks again Dominic, 2 of 3 are up and they look great :)
TH. London
Hello, just wanted to thank you for the order. Everything was perfect.
NS. London NW2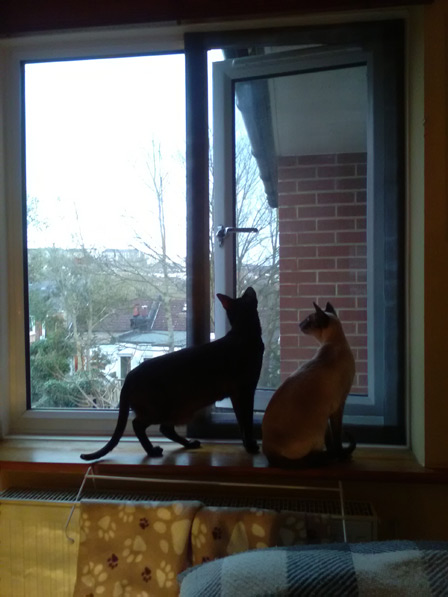 Hi Dominic, Thanks for sending the flat cats to me so quickly. The screens are up and I was very pleased to find it was as easy as everyone has said! It's such a simple and effective idea but then the best inventions normally are. I would and will be recommending these to everyone! (Pictures will follow when the cats arrive tomorrow)
NR. Brighton, East Sussex
Hi Dominic, Just a quick email to say that these on Friday morning. Great quality, easy to install and very prompt service.
RL. Linton, Kent
Hi Dominic Just let you know, I received my flat cats and now up at Windows. Thank you for your very fast service
SM. Rossendale, Lancashire
Thank you for your very fast service.
Just a quick word of thanks,for the prompt and speedy service you gave.All Flats now fitted and doing there job well.Thank You once again
DW. Bristol, Avon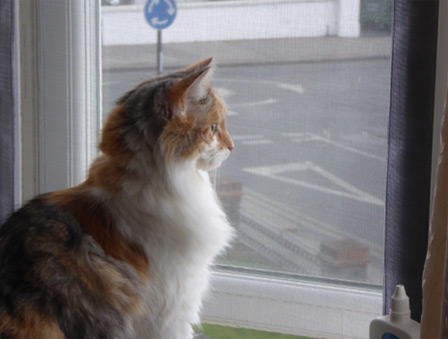 Dear Dominic, Thank you so much for such excellent customer service and quick dispatch of the Flat Cats. I cleaned down the windows and fitted them in less than 5 minutes each. They fit well and I am getting a good night's sleep at last as the bedroom is so much cooler. Our little escape artist has investigated thoroughly and has now given up but is still enjoying the breeze from the window. I attach some photos and I am happy for these and this small testimonial to be used in your advertising. Thanks again
LH. South Norwood, London SE25
Hi Dominic, I am delighted with my order and you were correct when you said they could be fitted in minutes. Bluebell is also happy that he can look out of an open window.
SB Bracknell, Berkshire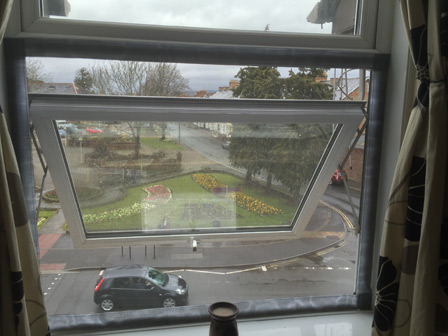 Fantastic customer service and a fantastic product. Easy to fit and durable. My two cats totally ignore it now, and I'm loving the fresh air without worry. Would recommend this to all.
As you can see from the picture, I live fairly high up and by a main road
AS. Taunton, Devon
Thank you for sending the Flat Cats so quickly. It went straight up a treat -wonderful. Thank you. The cats even enjoyed playing with the curly backing from the adhesive strips!
Will shortly be in touch for the patio doors. P.S.Why dont you advertise yourself more Dominic? I only heard about you from the Vets notice board. Do you have any kind of flyers/posters I am a member of a Cat Rescue. We could distribute during our fundraising events.
Perhaps you should go on Dragons Den?
SH. Swanley, Kent
Hi - just to say they have arrived — only got one up so far (not had time to do the others!!) but chuffed with the one in my bedroom — the window was able to be open all last night and I woke up in the early hours to see Mia sitting safely looking out :-)
CT. Bootle, Merseyside
Hi, I have only just fixed a couple of my flatcats today and want to tell you how impressed I am on how easy it was! I was dreading doing them in case my measurements were out but the first two fit perfect ! They look a lot better than envisaged too as was worried black and grey on my brown frames would look messy but they don't, in fact they are hardly noticeable! well just wanted to say thanks for your help and for the speed of everything from your replies to delivery. Fingers crossed my other two are a perfect fit too :). I'm assuming you sell the sticky tape separately ? I may get some in stock as the one in the bathroom may need replacing more often. I will be recommending these to my fellow cat lovers and fly haters :)
CP. Chesterfield, Derbyshire
Just wanted to say thanks for all your help with the screen I needed for my balcony door! It will come in extremely necessary in summer when I want to have my door open but cannot let the cat out. You were very helpful and I received the screen within days. Thanks again

HG, Hove - East Sussex
Just letting you know that my flat cat arrived, thank you so much.I shall be in touch in the summer with another order.
EM. Halesowen, West Midlands
Hi Dominic, Just wanted to thank you for our order – just fitted it and thankfully it fits !!! Very pleased with it , cats haven't taken any notice of it and are enjoying the fresh air.
DW. Ware, Hertfordshire
Received the flat cats today and have installed one already. Thanks again, delighted with it (& by the looks of it, so is she).

YB. Dublin, Ireland
Hi Dominic, Many thanks once again for the very efficient service. The packs were received and the Flat Cats are now in situ. So I am all prepared for the hot summer months ahead!
JM. Ipswich, Suffolk
A truly exceptional product. It has changed our lives. Fresh air for us, and Minnie and Marvin love to have the breeze through their fur.
I ordered one to start with, and have just ordered two more. The flat-cat is a REALLY well made product. The mesh is tough and you cannot see it from the outside, and after a while cannot notice it at all. The fixings work perfectly and are quick to place. The customer service and care are excellent, the delivery is speedy, and my cats are safe. They have never tried to scratch at it or get out, they just really enjoy smelling what the neighbours are cooking for supper and being extra nosy.

Thank you Dominic at Flat-cats.
LB. Brentford, Middlesex
Hi Dominic, just a short message to say how delighted I am with my flat cats.
I have two cats now, and I don't have any worries whatsoever with opening my Windows. Every time I open or close my windows, I think to myself, those flat cats are absolutely marvellous, what ever would I have done without them. I constantly tell people about them and about your excellent service. Thank you once again.
BW. Plymouth, Devon
Dominic,
Thank you so much for your excellent speedy service! My Flat Cat arrived yesterday and I had the first decent night's sleep with the window open since the arrival of my furry baby! Fabulous product. You're a genius!
JB. London EC1V
Hi Dominic
Just wanted to say thanks for your help and the package as it has arrived and we've already put up one of the flat cats on one of the widows and it has been well received by our cat!
FM. Chertsey, Surrey
Hi Dominic, I've suddenly been reminded that we never confirmed delivery of our Flat Cats; they arrived shortly your last email was sent. The Flat Cats fit the windows perfectly and the instructions that came with them couldn't have been clearer, so we had no trouble putting them up. After a day or so we both found that we hardly noticed them, and I still occasionally try to open a window without first unsticking the Flat Cat, a testament to how well they've blended against their background. Our new cat, Nigella, is a larger lady, so she hasn't been doing much jumping onto the windowsills yet, but she is very curious and once the diet we've got her on has produced results I've no doubt the Flat Cats will prove invaluable. In short, a top notch product, and a great service to boot. Once again, thank you so much.
All the best, C&A (& Nigella). London SE5
My husband bought flat cats from you a few months ago - they have made such a difference to us! We can now sleep with the windows open without our cat Pilau climbing in through the blinds! Thank you for an excellent product and great service.
CR. Bradford, West Yorkshire
Dear Dominic, Just thought I'd take the time to thank you for your invention of Flat Cats. We have 2 black cats and live near a busy road, so they're not allowed out at night. One of them prefers windows to cat flaps, so without these, we would be unable to open our windows once they are shut in for the night. The boys also like them, as they can sit next to the window and sniff the outside world! We have some from a few years ago, and these are much stronger, but again easy to install, and the measurements on the website easy to follow (the first lot we got we had to have one specially made for the study window which is larger than the usual, and you were particularly helpful then). So once again, thank you.
NK. Newcastle Upon Tyne
Hi Dominic, Thank you so much for getting these flat cats to us so promptly. Finally we can have the windows open without worrying that the cat is going to fall out the window lol (See picture attached of what we have to deal with). These flat cats are a godsend and dealing with you has been a pleasure. Thank you so much, I will recommend you highly to anyone that has cats.
RW. Ilfracombe, Devon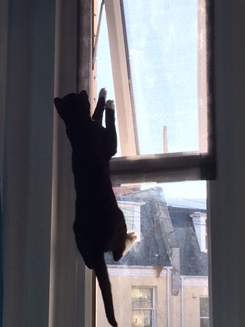 Thank you for your great service and quality product. As you can see they love it. In fact I never see them anymore, unless it is to tell me of another cat outside. We will be ordering more in the new year.
Regards
VM. Swanland, North Yorkshire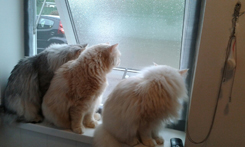 I wanted to followup and let you know our Flat Cats package arrived today, and we promptly installed them. Attached, you can also see one of our cats enjoying the fresh air and Flat Cat.
Thanks for all your responsive help, and look forward to seeing how this goes.
T&E. Seattle USA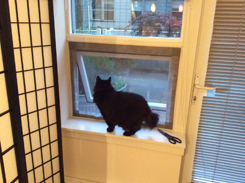 Many thanks for your very prompt delivery - the package came on Saturday! It looks great - we'll fit it tomorrow.
GB. Otley, West Yorkshire
Just a wee note to say thank you for your help. It fits perfectly and I can now have my door open without worrying about escapees!
MC. Bristol
We received our Flat Cats today and I would just like to say thank you. We have been struggling to cool the flat during the summer because we have been afraid of the cat having and accident, they are a great quality and we are very happy with them. Ive attached a few photos of the cat as well.
CD. Shawlands, Glasgow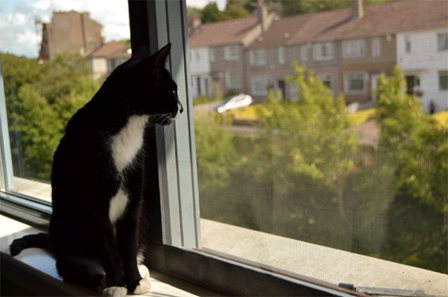 They are enjoying the fresh air and view thanks to Flat Cat & you :)
PO. Chafford Hundred, Grays, Essex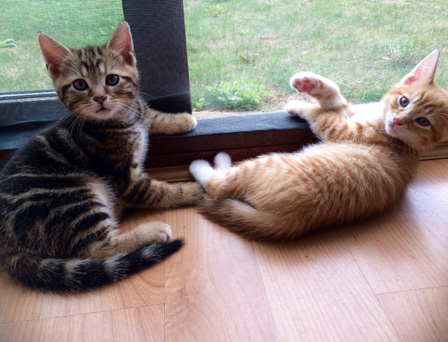 The product fits well and we are really happy with it. Thanks again for the help and hopefully speak soon as we are thinking of getting a couple more for other windows in the future.
KL. Liverpool, Merseyside
Received my order and put them up today. I am so pleased with them, perfect fit and very robust. Will be sending another custom order to you soon for the additional window I need covering. Will also be recommending your product, so pleased with it.
CB. Swansea
Thank you for the window mesh screens.
I don't leave my kittens, Artemis & Minerva, unsupervised when using the screens to have a window open. But they seem to be working!
Not only do they allow me to keep my home cool during these Summer weeks, but they also keep the kittens busy for a while, as they love the sounds and smells from the open window.
Once they're neutered and microchipped aged 6 months, they can explore outside. But until then, Flat Cats are a lifesaver!
RB. Woodford, Essex
We have received the Flat Cats delivery today! Thank you so much for turning things out so quickly. We have installed one, and so far it looks great, now we can open the windows for fresh air without worrying about our cats safety. We will take some pics and send them to you once they are filly install.
LH. Wealdstone, Harrow
Dear Dominic,
Our Flat Cats have arrived and are all fitted. Thank you for such helpful, speedy service.
They look great and I can now open my windows without feeling panicky that the cat will attempt skydiving!
I'll be ordering more soon for another room as I'm so impressed.
Here's Lola having a good nosey!
KL. Dulwich, London SE22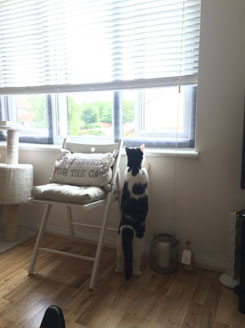 Many thanks from Cleo and Oskar in Berlin
VC. Berlin, Germany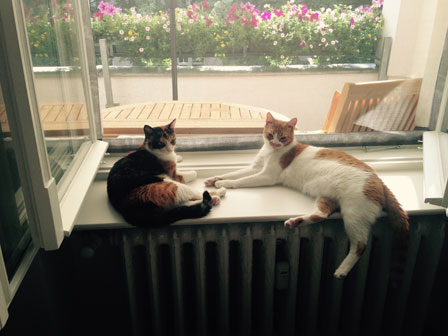 I have received the cat screen and installed it this morning. I would like to say that I am super happy with the quality of the product as well as the ease to put it up. I am also extremely pleased with the speed of shipping and delivery. This was an excellent purchase and I wish you all the best success with your business.
CL. Surbiton, Surrey
Thanks Dominic the windows gauze are absolutely fantastic so simple but very effective I love it and so do the cats at last I've got fresh air may order one 4 kitchen ltr thanx again
RS. Accrington, Lancashire
Just received the new flat cats, fits purrrrfectley, such a great product thank you for being soo helpful. I can finally sleep at night and not being too warm
CM. Redfield, Bristol
Hello Dominic, The Fat cats arrived this morning and are now installed all over the house,we now have all the windows wide open, and for the first time since having Lulu our Bengal. have a lovely breeze blowing in and feel secure that even she won't be able to dismantle the screens. They are really well made and arrived very quickly easy to put up,wish we had come across you ages ago . Many thanks for your excellent product and service.
NB. Forest Hill, London SE23
Just wanted to say a big THANK YOU for my Flat Cat screen. I can't believe how quickly you dealt with my order, and you're right, the screen is so quick and easy to put up. Hooray! Now I've tried you out (!), I couldn't be more satisfied and will be ordering some more. Mungo and Bubbles send loud purrs.
HR. Easy Molesey, Surrey
Hi Dominic
I know I just phoned to say thank you but I'm so impressed by the great, fast service and the fact that you put yourselves out to get my order done quickly. Not many companies nowadays care about the customer!
Will happily recommend you to anyone on my Face Book page.
Best wishes. AA. Weeley Heath, Essex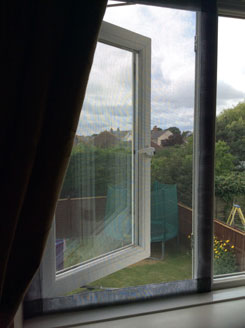 Dear Dominic,
Just wanted to send you photos of my Somali cat Tori looking out of the patio door.....the screen arrived today and she is loving being able to look out, smell and hear the sounds in the garden. She is fascinated with the bees and butterflies on the lavender.....she is safe and so are the butterflies and bees!
I am sorted now with my windows and door, thank you so much. These have been my best purchase this year, knowing my precious cat is safe. I promote your products at every opportunity!
PG. Maidstone, Kent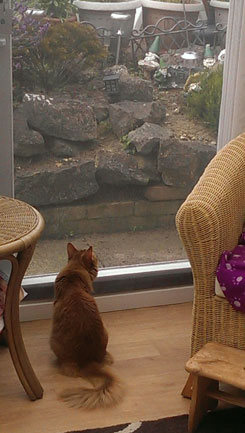 I have been meaning to email you for a while now but wanted to thank you for our flat cats. My babies Gladys and Vera love watching the world go by on the windowsills and we are so pleased we don't need to worry about them! I may well be in touch in the future!
CD. Newbury, Berkshire
Thank you very much, you offer and provide an excellent service
WG. Dereham, Norfolk
Really impressed with the screen, it fits perfectly and works very well (even for my large Maine Coon!), I'll certainly be recommending it to other cat owners
GA. Brighton, West Sussex
Hi - Thank you so much for sending me a Flat Cat. I have just fitted it, and my two cats, Ren and Stimpy, cannot get enough of the fresh air, as you can see! Thank you again!
SH. Chesterfield, Derbyshire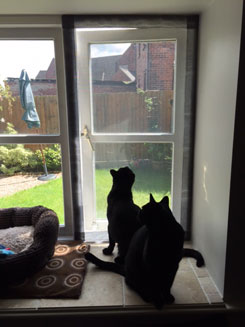 Dear Dominic,
Thank you so much for the wonderful flat cats which we have just got round to putting up now. We love the new double strip and the Velcro that goes all around the window giving that extra durability and safety factor as our cats are very heavy and tend to climb up the netting!
We can't thank you enough for your wonderful innovation.
Kind regards
R&J Hanworth, Middlesex
Hi Dominic just wanted to thank you for out flat cat windows guards. We are so pleased with them. I can't tell you how fabulous it is to sleep in a cool bedroom knowing our cats are safe (and it seems to have stopped the spiders coming in as well - way hay! fabulous). We have slept in a sauna of a bedroom since I woke up at 3 am one morning about 8 years ago to find one of my cats teetering on the edge of the fanlight window ready to jump from the first floor window - very very scary so we just kept the windows closed from then on!! Plus off course all the bugs that would come in univited also. Thank you very much. We would be happy to recommend these :-).
T&G. Spalding, Lincolnshire
Quality product, easy to assemble with straightforward instructions. Customer service excellent - highly recommended.
MR, Epping
Hi Dominic, I love my house cat so much! She's so special to me, but as the weather got warmer I forgot how much I missed having the windows open. And now... Success!
Me and my little Bengal Lacey can enjoy the fresh air together and she is safe!!! Thank you!!!
JW. Rainhill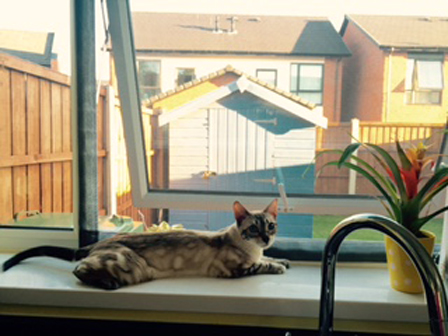 Hi, Just wanted to say thank you for the flat cats. They are spot on and now we dont have to sit in what felt like an oven of a front room.I will recommend you to all of my friends that have cats as these are a brilliant way of stopping the cat from getting out.
JE. Camberley, Surrey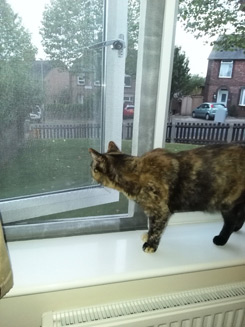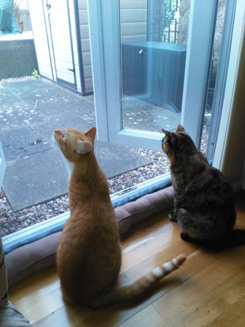 Thank you for the Flat Cat which arrived last week. I had to wait until my son came over to help me install it as the window is so high but we've done it and I'm delighted with it. I can now have the window open all summer and Ella can't get out, which is a good thing as she's just discovered how to get on top of the wardrobe and from there to the tall bookcase next to the bedroom window - but she can't get any further thanks to your Flat Cat.
TS. Kings Lynn, Norfolk
Just wanted to say that the Flat Cats arrived safe and sound. We spent around 20 minutes fixing both the standard window and the custom size screens. All of them are a great fit. My wife and me are extremely happy with the product. We have 3 indoor cats, who are our "furr babies." We can now have the windows and Patio doors open without fear of them escaping and in the recent warm weather, excellent for allowing tons of fresh air, keeping the entire household nice and cool. Highly recommended. Many thanks for providing an excellent product, great communication and a speedy service.
A & BG - Leicester, Leicestershire
Dear Dominic, We just wanted to let you know that the flat cats are doing a wonderful job and thank you for your help and excellent service. Professor Jack loves sitting at his window and now we can all enjoy the fresh air, especially as the weather is warming up! And, as if that wasn't enough, our flat is also mozzy and midgy proof! Here's a picture of the Professor surveying his domain.
RC. Buckingham, Buckinghamshire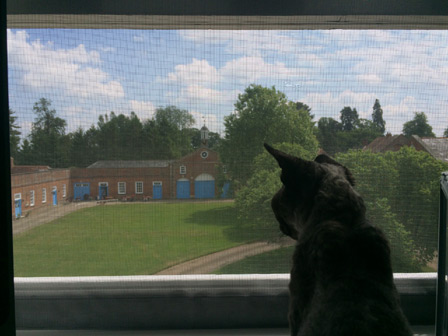 Hey there I got my product this morning and have put it up everything is a perfect fit I am very pleased with it so far and will recommend this product to anyone in a flat or with a house cat as long as it stays up which I am sure it will! Thank you!
TM. Catshill, Worcestershire
Just to let you know the Flat Cats have arrived safely and have been installed! We love it and Doris, the secondhand cat, loves it too.
EF. London N5
Dear "Flat Cats" - I just wanted to let you know that my custom made order of 3 Flat Cats arrived safely last week. Further, I wanted to thank you for your informative, helpful and prompt service. It is a refreshing change to find a company on the internet and actually receive products which match the advert. The items were exactly as described and made to my exact specifications. I could not be more delighted with your product or service. The Flat Cats are already installed - this only took me 20 minutes at the most ! My family are now safe to sleep with our windows open without our pesky kitties sneaking into our beds - which couldn't have better timed given the current UK weather !
SP. Abingdon, Oxfordshire
Dear Dominic, Many thanks for the confirmation. We ordered some flat cats last year as we foster for Cat Protection and the cats can not go outside. We have been really happy with them and they have improved the quality of life for the cats in our care as they like to sit by the window feeling the breeze!
RE. Bookham, Surrey
hiya! I just want to say thank you for the quick delivery of my flat cat, i put it up in less than 10 minutes and I now have one safe, cool cat! I have posted about them on a local cat group so hopefully you will be getting more orders from the Harrogate area over the next couple of days! Thanks again,
HS. Harrogate, North Yorkshire
It is absolutely amazing and especially in this weather , it has come as a god send!
I will most definitely be recommending you to any of my friends with cats and if you have a part on your website would love to sing its praises to any other potential customers. Again thank you and look forward to do business again.
JF. Broughton, Nottinghamshire
The order was received today and all 3 where fitted within 10 mins. A brilliant well manufactured product giving us piece of mind, which is priceless. In the next few weeks we will out another order in for a few more as highlighted in a previous email to you. Very happy, thank you.
PK. Winsford, Cheshire
Hi Dominic, iv received my flat cat screen and it is now up and its fantastic, can now have my door open and have some fresh air in the living room and my 2 house cats are safe and sound.Would highly recommend these screens to everyone. Thankyou.
ML. Gloucester
Just wanted to say a huge thank you for the flat cats, which arrived on Saturday. They are wonderful and were gratefully received with the warmer weather - we can have the windows open without the cats jumping through the window and landing on our heads in the middle of the night!!!
CC. Swindon, Wiltshire
Hi Dominic, I'd like to say a big thank you for the made to measure flat cats thay fit perfect.
DM. Barnet Herts
Apologies for the delay, just to let you know the screen is perfect! Delivery was super quick and you were very helpful. I can now enjoy fresh air through the house without worrying about my little kitty escaping! She has not tried to climb it or pull it down once, which must be a miracle as she manages to open doors easily enough! Will be recommending you to anyone who asks!
SC. Bandon, Co Cork, Ireland
Hi Dominic! - I finally, FINALLY got around to a few snapshots for you! Your Flat Cats are wonderful and have given us so much more freedom here in the apartment! And we know that Bill and Francis are safe
JD. Cardiff Wales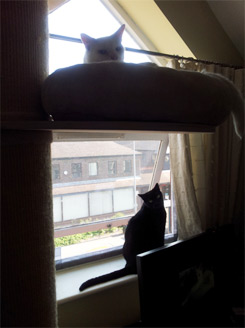 Screens arrived this morning, have fitted them and we are very pleased. Enjoying the fresh air my little cat being safe
AL. Lichfield, Staffordshire
The first three are up so I will send you some photos for the website - I can't believe that you can't actually see them when you are stood outside really ingenious idea
RL. Stafford, Staffordshire
Hi Dominic
I'm sure you get 100s of photots like this but there you go - perfect fit!
JH. London N12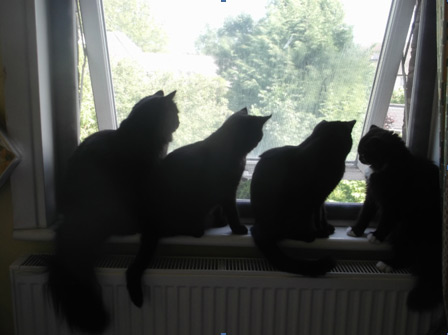 Thank you for our screen which I received on Thursday. Sugar is quite enthralled with now being able to see AND hear the birds outside! We are enjoying the fresh air and security of knowing she is safe in our home.
AG. London N2
Hi Dominic thank you for the flat cats I was able to sleep with my window open last night they are great
RB. Malvern, Worcestershire
Hi Dominic, Hope you are doing well. I just wanted to let you know that the screens I bought from you back in March were the best investment in the house I have ever made - seriously! I have been meaning to write and say this for some time but have been too busy enjoying the fresh air in the house as have the cats. They are well made, easy to fit and perfectly effective. I am not being dramatic when I say, being able to have the windows open in the house has hugely improved our quality of life - human and feline alike. Thanks again for such a great product.
AC. Dosthill, Tamworth, Staffordshire
Hi Dominic, Just so you are aware, you are getting good feedback on a Ragdoll owners website, Ragdoll owners UK only, I think, I personally praised your products which are standing up to my (now) 5kg kitten! It is a Ragdoll owners site, sadly individuals cannot advertise their products, but members of the closed group can make recommendations. Which I did, others supported me. Also mentioned you on a raw feeding site I use, lot of people with very valuable cats want to keep their kitties healthy and safe, again it's a closed site and the admin is very strict about ads. The door screen you made for me is an absolute boon at the moment, lots of fresh air, kitten safe, no insects. I will of course continue to support your products on line, they certainly have given me peace of mind, feel free to quote me on that!
DS. Erdington, Birmingham
Hi Dominic, Received the flat cats super quick, and the fixings have all arrived correctly this morning. Thank you so much for your help and a fabulous product!! My cats and I think it's amazing!! Kind regards,
SM. Colchester Essex, and our cats Max and Archie
Dear Dominic, I'd just like to say how pleased and impressed I am with my new Flat Cat. It really looks good in the dining room (cats' play room really) and I'm surprised and delighted that it keeps the glare of the sun down and stops flies etc. too. Your customer service and patience in answering all my email questions so promptly, even on a Sunday, was extremely impressive.
AK. Long Eaton, Derbyshire
They have arrived safe and sound, fitted them last night and air flowing freely through the upstairs of our house. Thank you for your prompt service, they really are great.
KC. Telford, Shropshire
Hi I just want to say a huge Thankyou for the flat cats they arrived this morning and are fitted already they are so simple but yet amazing our house is so fresh today with the windows open and the cats don't have a clue thankyou so much, I will be ordering for our patio doors soon
CM. Blackpool, Lancashire
Hello. I have received the items and they fit fine. I will try them out for a couple of weeks and I will think about ordering a couple more
JL. London W4
It's fantastic to be able to open the windows again! The Flat Cat fits perfectly. Thank you for a great item and fantastic customer service.
AD. Bedford, Bedfordshire
Just so you are aware, you are getting good feedback on a Ragdoll owners website, Ragdoll owners UK only, I think, I personally praised your products which are standing up to my (now) 5kg kitten!
DS. Erdington, Birmingham
Thank you, my order arrived couple of days ago and we managed to fit them over the weekend. It was all very easy and straightforward. Fantastic product, so simple but so effective. Will make such a difference to the safety and wellbeing of our house cat. Would definitely order these from you again and will be recommending to others. Also, great service and great packaging
LG Leigh (Lancashire)
Many thanks for the flat cats, delivered today. Tabitha and Cleo have given it a good investigation and seem happy to sniff the air and leave it alone - bliss. Perhaps now they will see the cat flap as the only exit - many thanks
DC Wells, Somerset

I just wanted to contact you to say how brilliant Flat Cats is! I recieved my custom order much faster than anticipated and attached it to the window this weekend. It is so nice to finally be able to open the window and let fresh air into my flat. My little Ragdoll has literally spent his weekend sat on the windowsill taking in the fresh air and listening to all the new sounds going on outside - by Saturday night he was exhausted! I am definately going to place another order for my other windows. Its a simple but brilliant solution to a very common problem for cat owners everywhere and I have already been recommending you to friends.
DS Bristol
Just dropping you a line to say the screens are perfect for the windows and they have the added bonus of keeping the flies out! I've recommended them to a few people and sent your web site address to the cat rescue where I got my cat so maybe others can give them a try.
KP Lewisham
...they are perfect!!!! Im so pleased with them. They are very easy to fit and they seem to be quite strong too. So a very very happy customer!! I will probably purchase more for other rooms. I will let the members on Pet Forums know how fantastic they are and the service I received.
ZS Chatteris
Just wanted to say that we are very pleased with our Flat Cats. They were easy to fit and have put our minds at rest with our 2 new energetic, adopted cats. Many thanks!
MM Liversedge
I received my custom Flat Cats today and wanted to just let you know I think they are brilliant and have been really impressed with the service from the company.
AG Cirencester
My Flat Cats arrived this morning and I offer my grateful thanks for the swift processing of my order. I am pleased to advise that all 3 Flat Cats have now been very easily secured in place, each one taking only a couple of minutes to install. In addition, I am particularly impressed by the quality of the Flat Cats; they are a brilliant but simple concept that certainly solves the problem they were intended for. With the lovely warm weather now, it is so good to be able to open the windows upstairs knowing that my 2 cats are safe. My congratulations to you and the Flat Cats team for such an excellent product, which I will certainly recommend to anyone else who might need them
AM Romford
Many, many thanks for the Flat Cats...they arrived this morning and I am delighted with them! So easy to put up and at last I can just fling my windows wide open without the fear of my cat, Lucy, falling out. I think that your company is excellent; extremely accommodating and professional and great customer service. I will definitely be recommending you to my friends! I've attached a photograph of Lucy enjoying the fresh air (and birds!) from the window
CPR Bromley
Hope you are well. Just wanted to send you a quick email to express my satisfaction in the flat cats that we ordered from yourselves! We installed them in the flat on Saturday morning; each one literally took 2 minutes to do. My partner and I were very impressed with the build quality of the product, and the measurements were also spot on. The kitten doesn't seem bothered about trying to climb the mesh and loves sitting behind it looking out of the window in the breeze.
SW Beccles
Just wanted to let you know how much I am enjoying the use of my specially sized flat cat near a year on. I love watching my cat Jamie as she sniffs the air and sits in the sun, and of course I love the fresh air flowing in my flat too!
A Brighton
At long last i can relax in my flat while it airs. Such a simple solution to keeping my loved ones safe. Please feel free to pass on my mobile if someone needs to call me for a reference. I myself have been passing your website onto other people. I hope you do well out of this business.
AJ Morden
Just wanted to say received flat cats this week. Thank you very much for all you help and very prompt service.
SS Flitwick
"Just to report that the flat cats have arrived and work wonderfully. Thank you"
SI Harlesden
"At last I can stay cool in the summer - you must get this product in the shops!"
KB Cheshunt
"Fantastic! Rosie, my cat is now safe in our flat as I have window protection for her"
RS Twickenham
"Just to say a huge thank-you, what a great product"
TS Brighton
"Just wanted to say thanks for the quick response to my order and speedy delivery. I am very pleased with the item. Thanks also for the refund after I had purchased 2 without realising you did a special price. Would certainly recommend your product to other cat owners".
HB, Clacton
"Received order yesterday thanks , and the screens were perfect ! It is such a relief to be able to open windows upstairs without worrying about Smarty falling out, and he is loving sitting on the windowsill now with the fresh air and birdsong. Thanks again for your help, I have kept your contact details in my diary so I can recommend your product to anyone else who needs them
".
KN - Plymouth
"Received my Flat-Cats today and all I can say is WOW!!!!! Thank you so much, they fit perfectly on all 3 and I can now open my windows especially with the nice weather. I have been extremely impressed with all contact and the speed in which ive received them, im spreading the word already for you. I wish you every success in the future and hope to see them in the shops very soon!! If you need any comments from me for your website or future publications I would be more than happy to oblige".
EM Ilkeston
"Just a note to say we love the Flat Cat – Sid sniffed the air a bit, then has totally ignored it!!"
KM - Hornchurch
"I received my order from you three days ago and installed them straight away. My cat, Simba, initially couldn't understand what had changed and tried to jump out the window, I have to tell you that I laughed quite a bit when she bounced off the netting.
I must congratulate you on a great product. My girlfriend and I can finally have our windows open. You have opened Pandora's box for us. Because your product is so good we will be returning to you within the next two months for two more Flat Cats to cover our remaining windows. I have some other commitments to take care of first, but rest assured we WILL be back. Thank you for solving a huge problem for us. Keep up the good work ! "
NB Waltham Abbey
"Just to let you know I have installed the Flat Cat and it works a treat!"
HA London
"Thank you so much for your great product, we can finally open up the windows and breath fresh air with the confidence of knowing our cats are safe. Would also like to add i thank you for your promptness and personal touch, it has been a pleasure and i will recommend this to all of my cat owning friends"
SG Barnet
"We received our Flat Cat on Tuesday but only got a chance to put it up last night and just wanted to say, its fantastic! Fits perfectly and meant our house was cool last night while we were eating etc! Simba seemed a little confused by it all but he was very good so long may it last!"
SF Camberley
"These arrived today and are excellent – in fact I've just ordered a second pair for the back bedroom windows".
AB St Albans
"As per my phone call i have recieved my Flat Cat and i just thought i would send you a quick e-mail to say how pleased i am with them. They fit really well and look good .
Once again thank you"
PM Reading
"I have received the flat cat screens today, can't wait to put them up at the windows. I would like to say a big thank you for all of your help"
MJ Reading
I thought, as we were just buying our second set of flat- cats that I would let you know how good we find them. We have two Ragdoll cats, Barney and Callie and got the first set when they were kittens. All advice we had when getting the kittens was that Ragdolls should not go out, that they were too friendly and not savvy enough to cope with the outside world. We tried therefore initially to keep them in, but this proved impossible, and on one occasion a neighbour rang the bell to ask if we were aware they were on the roof of the porch ( this prompted our initial purchase!). We now try to let them out when we are home during the day, but when we are not they are kept in, so the flat-cats are useful in that we can have ventilation ( especially at night as they watch the moon from our bedroom windowsill) but they cannot escape! we can be sure that even though the window is open they cannot get out- and to be honest they soon learned that there was no way through they don't even think there is a route through now.
The flat-cats have been a bit clawed in the beginning, and as we are in the process of redecorating we decided to replace them with a new set, but feel the price is so reasonable a second set was not a major extravagance! The most complicated bit was finding your website again!
DM & SM. Aylesbury
Hi Dom, I just wanted to say that I genuinely couldn't be happier. Your customer service was second to none and the product is just perfect. It really has improved our home. I have recommended you to friends of mine and I'm sure they will b in touch very soon. Thanks again xxxxxx
LA. Maidstone
Many thanks for prompt delivery of Flat cats............have just put them up and am hoping for a cooler nights sleep, without my cat attempting to leap onto the roof!
SW. Tenbury Wells
The Flat Cats arrived this morning and I've just finished fitting them. Installation was easy and I have to say I'm impressed so far, both with the product and the standards of service! The cats haven't seen them yet but if they react well I will place an order for another two within the next week
JBG. Bicester
we received and installed the cat screens a few weeks ago and we are very pleased with it. Your suggestion for the large custom screen works really well. Many thanks for the excellent service.
BP. London
Thank you. Flat cats received and installed with no problems :).
SO. Burnham on Crouch
Thank you for the Flat Cats, it is so great to open the windows and feel the breeze without having to close them within minutes, just in case. Our cats were a little confused and sat on the window sills looking at me for an explanation, I did of course give them a full and thorough explanation as to why it looked like they could get out, but actually couldn't, I am sure they understood!!

I will be making another order in a few weeks for my mother, she is very impressed
CF. Romford
It's a relief to find a product that is useful and easy to order!
SO, Burnham on Sea
Just in less than 10 min put up both cat flats. A great invention on your part. My partner and I are originally from NY and have been here now 11 years. One thing that has driven us crazy is having no screens. Granted England does not have th eproblems we had when we lived in Florida. But every summer on a nice day a circle of flies are in the room. While we bought these for our kittens we are getting in a few weeks you really should also do more mention of how it keeps the bugs out. Thank you again and thanks also that you send extra adhesives that we can use in two other rooms if need be. Will keep you in mind and pass on your site to friend of ours who would enjoy opening a window in the summer :)
JO, London
I recieved my flat cat and i am very pleased with it so il be ordering some more in a couple of weeks thankyou very much for your help
JM, Fareham
Wow i received the flat cats today..ive fitted one and im well happy with it, no more frustration.. i can now air and cool my flat without worrying. many thanks for fast delivery
LW, Bardsley
Just a quick email to say thank you very much for our flat cats. I brought them for my indoor kitten (please see the picture attached of my kitten enjoying the fresh air from her new flat cats) who has asthma so its not recommended that she goes outside.
We received them last week, which was very fast considering we needed custom made ones and they are very quick and easy to fit.
It is nice to know that my kitten is getting fresh air in the safety of her own home and lucky for us as we have just got them fitted in time for the oncoming warmer weather.
Many thanks :D
GH - Leicester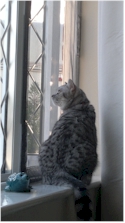 Rec'd the screen promptly and it is just fab!! So totally what I was after - a really simple idea but just brilliant!!! I had a few people round at the weekend, and since we have had such lovely weather - ideal opportunity to have windows wide open! Everyone thought it was a totally fab idea, and product (especially because you cant really see it when the sun is shining - it just looks like the window is open!!) and are even thinking about getting some done for next year to keep flies out of their houses! It was just so what they wanted - from a 'flies out' perspective rather than a 'cats in' perspective which is where I was coming from
AD - Wymondham
I asked Brian to email you and let you know that flat cats arrived safely on Tuesday, and are all up and working well. Thank you so much we are so pleased with them, especially me, cause I can now have my fresh air. Mr Smudge not so pleased, because he can smell fresh air, but can't get out. He has tried, but has not been successful at it. J (chuckle) (heeee heeee). One of the residents asked us where we got them as she was really interested because they would keep all the nunus out (insects) and mosquitoes. Once again a very big thank and very much appreciated for all your help.
LW - Camberley
Don't know if you remember me, I ordered a flat cat after one of my cats was killed on the road in May having decided to keep my other 5 in at night. I just wanted to say how really pleased I am with the flat cat. At first one of the cats tried to claw at it to get out but I can honestly say it was only once or twice and probably more due to the fact that she was demonstrating her disapproval of not being allowed out at night anymore. They do come up and sit next to it when I have the window open but that is merely enjoying the fresh air. I will be putting in another order for 2 more next year when the weather warms up again and I want to keep the bedroom windows open at night for fresh air. I have referred you to a friend today so hopefully you should receive an order from her soon
KB - New Milton
I would just like to say thank you for my flat cats, my cat fell out of our 1st floor flat, luckily he was ok apart from a broken tooth, I immediately went on line, found you company and ordered some screens. The arrived within 2 days, and I now have a cool flat and safe cats.
Thank you so much for the peace of mind I now have, and thank you from my cats.
LR - London
I recieved my flat cat screen last week and it has literally brought a breath of fresh air to our apartment.What a difference it makes being able to open the window fully without worrying that my 2 cats are in any danger of jumping out the window. The screen is fantastic and I will be recommending it to everyone i know
EL - Dublin
Dominic, you are a genius, I only wish I'd found you years ago. At last I have cool clean air circulating my bungalow, and my 2 best friends Tiggy and Peep (she's shy) are asleep on the windowsills loving the breeze, and I'm happy in the knowledge that they are safe and secure. Thanks a million, if you have any queries from people in my area, send them round !! Thanks also for the lightning speed of manufacture and delivery, I was very impressed.
SJ - Bangor

Hi Dominic, Just wanted to say I got the window guards through they are brilliant thank you so much! Given me much peace of mind.
Thank you again,
KB - London
Just to say that I have received my flat cats and I am very pleased with them. I have fresh air without fear of killing my cats! Wish I had found you earlier.
VS - Redbourn
Just wanted to say 'thank you' for getting the blinds to us so quickly. They arrived on Friday and fitted perfectly - your advice about using two smaller blinds rather than a single large one was very helpful and a repeat order will undoubtedly follow in the next couple of weeks !
TB - Sandhurst
Thankyou for your help regarding my flat cat purchase. After speaking on the phone you advised a standard flat cat for me rather than a custom one, saving my pennies!
Now my boyfriend is happy as he can sleep with the bedroom window open, but the cats aren't as they cant sneak out in the night. If the window was even slightly open they would head butt it until they could escape - the problem is, they can get in the garden, but cant get back up to the window! Thanks again for a fab product
EC - Morpeth
Just found your website. Looks great. Our baby cat (15 months old and born with no eyes therefore no sight) fell out the window for the second time yesterday. He broke his back right leg in 4-5 places. He had internal bleeding. We thought he'd learnt his lesson after the 1st time . . . and we were wrong . . . or he just slipped . . . anyway, now I'm really kicking myself that I didn't search the net before to find your site. I had in mind something like you're describing exactly and was thinking along the lines of the kind of door guards that you get in places like the US to leave doors open and let air in, but at the same time keep bugs out . . . and then your website pretty much matched my plan in my head. Genius.
I shall carry out measurements tomorrow with my wife and we'll get back to you pronto – not letting him try out any more of his 9 lives . . . Bless him. The cost of leaving this too late is looking to be around the £1k mark (we're not insured) . . . You might want to use our story as a testimony on your website in the future, along with some pix from us too.
MH - Bournemouth
I have already purchased one flatcat and it was a life saver. i now have an un-stuffy apartment and a safe kitty! i am now putting them on windows through out my home. thank you!
EJS - Dublin
Just to let you know that my flat cats arrived! They are brilliant, I have only put one up and had to rush back to work, so I will go and open the window for her this afternoon, she is going to love it :) It's much stronger than I thought it would be, there is no way she is going to get through that, no matter what! I think you should send out afew small pamphlets with your orders, so that people (like me) who live in flats can put them into the mailboxes of the other tenants who have cats. I would love to tell them about it, but I don't really know them, and I never see them, I just hear the cats in the evenings. So popping a pamphlet into the mailbox would be the best way :) Thanks for getting them to me so quickly, I'll be putting the largest one up this evening, so lets see what she thinks of all this fresh Summer air...
:)
CJ - Liverpool
Just wanted to drop a line a say thank you for the flat cats. They fit perfectly, look good and are doing fantastic job so we are all enjoying the sunshine in the knowledge that Austin isn't going to endanger himself with an open window and the added bonus that no horrid bugs can get IN - is absolutely wonderful. I've told a friend at work who has been on your website too so will continue to spread the word about Flat Cats.
Many thanks
AL - Barnet
Just wanted to say many thanks for the screen. Excellent service. I can now have some fresh air with out the fear of my cat escaping
MK - Reading
My Flat Cat custom made order arrived today and I am really pleased with it – such a simple but great idea, now I can have my patio door open without worrying about the cats escaping - that is of course if it ever stops raining!
HW - Hoddesdon
Many apologies for the delay in reporting that our order of Flat Cats arrived very promptly and has proved to be invaluable in this warmer weather. Our new little rescue cat 'Daisy' has fully investigated the new arrangement and it seems to meet with her approval ! The welcome addition of a fly free house is great. Have a happy summer - with thanks
CL - Newcastle Upon Tyne
Flat-cat all up in the sunshine, thank you again. A friend saw it and very well may be ordering some also!
LB Westcliff-on-sea
Just wanted to say that I have received my flat cats (really quickly), just in the nick of time before we melted, how hot it has been! I had them up in a jiffy, and Molly and Poppy (my house cats) were immediately at the window sniffing the fresh air, chattering to the birds and generally enjoying themselves. They have been imovable from the windowsills all evening.
Although they have both being house cats from birth, with a previous owner, and I desperately want to keep them safe - you can probably see from the photos, that we live on a dual carriageway - I do sometimes feel guilty that they don't get any fresh air. So, if you can invent a way to cat proof a garden........... Anyway - looking forward to the rest of the summer, no matter how brief, with some fresh air blowing through the place. Thank you
EB - Birmingham


I am writing to say a big 'Thank You' for your help and advice. The three screens are (pardon the pun) Purrfect! They only took minutes to install and fit so well. I now have the confidence to allow the cats free roaming in the house. My daughter is especially pleased as they also keep out insects, she would have had to keep her windows closed at night in the past.

I would also like to thank you for the speed of dispatch considering I ordered made to measure sizes. I am happy to recommend your product to any pet owner or anyone requiring top quality insect screens. It was a pleasure to purchase goods of top quality materials and service.
LP - Corby
Thank you so much for making and sending my Flat Cats so quickly. They're now in place and are absolutely BRILLIANT. Ralphie looks a little peeved at not being able to try and take death-leaps anymore, but she's getting used to them and I'm absolutely delighted to have some fresh air in the flat without needing to worry that she might go splat. I'm so glad I found you!
FBH - London
Would just like to say a big thank you for all your help with this. It fitted perfectly
DJ - Redhill
hi, i have received my flat cats and i must say im very impressed they are very good and so far no escapees.The cats seem to understand that they cant get out if the screens are down.Thankyou fro all your help i have recommended you on the your cat forum.
AF - Stratford Upon Avon
Dear Dominic. The package has arrived safely. The fixing was as easy and even faster than you have mentioned on the website. The screens look really nice and keep my cat from falling out of the open windows. And also I'd like to indicate their unexpected benefit: FLAT CATS PREVENT SPIDERS FROM COMING INSIDE ! Thank you so much for your effort and lovely service
AS London
Hi there. Just wanted to let you know that the screens are up and working like a charm! Even at 5.5 kilos he can lean against them safely...thank so much!
AD London
I Just wanted to say thank you so much because they work great - and I have the worst non standard windows in the world (french strange size with inward pulling and shutters on the outside, and no sills) nightmare :D Anyways my two foster cats and I thank you and will order a some more when we move to a place with other bizzare windows - thanks again you should advertise more because i never heard of this until I went on some english forum (mind you can't even get mosquito grids in paris so this is brilliant!)
SO Paris France
I just want to thank you for your excellent service in dealing with this matter, it is very rare these days.I would certainly recommend your company and your product
JR Ferring
I am delighted to tell that the Flat Cat order arrived safely this lunch-time, and the sizing is spot-on ; I have yet to actually install them, as I have to make sure the chief "would-be escapee" is out of reach! Thank you again,
PR Bishop's Sutton
Dominic, I just wanted to say thank you - I am in my flat with the windows wide open and the cats love it! I will be ordering more for a friend soon.
LP Reading
Hello Dominic - Just to let you know the flat cat is fitted and just wonderful! They are secure and very sturdy - Thank you for your patience and time with my order, you have a fantastic product and I shall recommend you to all with flat cats! Thank you from me and my lovely cat :)
DP - London
Hi Dominic - Flat cats received yesterday! Thank you for taking on the challenge! You have done an amazing job and will be sure to recommend you to others! As you can see my cats are now safe! - (This was a special job involving inward opening balcony windows. Please note that this was created to order and please do call us if you require something similar to this. - Dominic)
M & A - Warwick
Hi - I'd just like to say thank you for a fantastic service and product, I will definitely be recommending you to all my cat friends! I will leave feedback on your website also, and let people know about your fab customer service.
KT - Sutton in Ashfield
Just to let you know that I received all the flat-cats today and they are perfect! I was so impressed by the workmanship and the ease of use, as well as the prompt delivery. Thank you so much.
BAM, Wimbledon
Just a brief note to advise you that the cover I bought from you is now fitted and my tenant is happy – job done
JR. Louth
The flat cats arrived this morning and they are now up at the windows, very easy to install. Can feel a lovely breeze coming through my lounge. The cat is still to investigate them, i,ll let you know how she gets on and i,ll write you a review for your website too. Thank you so much for a very speedy delivery.
AB. Farnham
Hi Dominic, just to let you know I have received my order and it is perfect thank you ever so much for your help!
MC. Slough
The new Flat Cat fit the windows really well and our cat Sammy has not even seem to have noticed them, but we are enjoying lovely air flow through our bedroom windows with out the worry of the cat getting out on the window sill, Thanks again for such a great product and I hope your business does well.
RO. Godderstone
Just wanted to let you know that the order arrived safely and is now installed. Beckford, my cat, is having a lovely time looking out of the open window and enjoying the breeze! Beckford had spent two years at a local cat rescue home (she had been dumped when she was six months old) and so I have been advised to keep her indoors but she loves looking out of the windows at the birds and other cats wandering past. Many thanks for producing a simple but effective system.
LH Colchester
Can I just say that I am really impressed and delighted by how friendly and jolly your messages are! I'm looking forward to receiving the product. From your emails, it seems like you take all your customers' orders seriously.
JB. Great Malvern
My dad put them up today... the cats are impressed
TW - Bath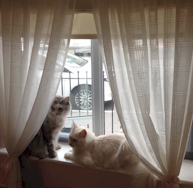 Just wanted to let you know that the custom flat cat for my sliding door has arrived and it fits brilliantly. I am so impressed with the screens and have recommended them to my parents who will be placing an order soon. The cats don't even notice that it's there. It's great to have fresh air in our apartment again:)
DB. Southampton